Muhamad Ridhwan vs Jason Butar Butar, the Foo Chow Association Building, Singapore, Friday 17 Feb 2016
By Gerald Hartup Jnr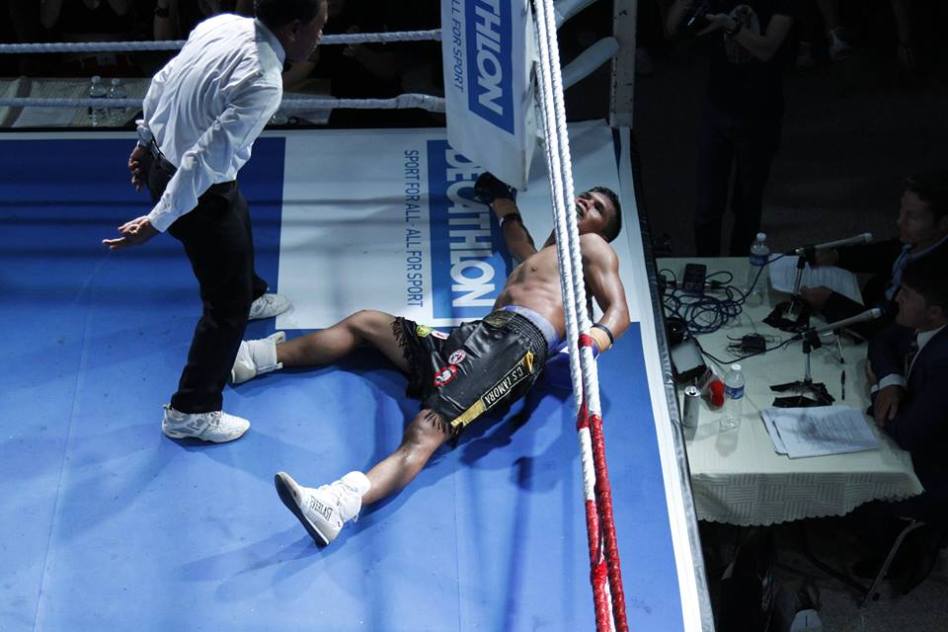 It ended brutally and abruptly. The local boxer knew he had just landed a bomb as he coolly walked to a neutral corner. It was a well timed short right hand flush on the button that rendered the Indonesian opponent horizontal. The lower part of his body was sprawled out on the canvas with his torso half twisted and contorted with the bottom rope. The referee counted him out and waved it off. This was midway through the fifth. Ridhwan was victorious after picking himself up from the canvas in the third. It was a vicious finish to a hard fought battle.
This was a step up in level of opponent for 29 year old Ridhwan as he builds his experience in the paid ranks. Butar is a veteran of 45 fights, has fought all over Asia in some meaningful bouts and has been a professional for 11 years. As an opponent he brought a high level of conditioning and a lot of ring craft.

Aside from the KO the huge flashpoint was in the third round. Against the flow of the fight, with about 30 seconds to go Ridhwan was caught with an overhand right which buzzed him and sent him to the floor. A little wobbly, he got up, raised his hand to the crowd to show he was OK and took an eight count. Sensing a stoppage, the aggressive Butar stormed in trapping Ridhwan against the ropes and unleashing a barrage of blows. Keeping his wits about him, Ridhwan kept a high guard, absorbed shots on his arms and gloves while slipping and weaving to keep himself a moving target and survived this ferocious test of a round.
After the scare in the third, Ridhwan regained composure and got back into the fight behind his slicker jab before the thunderous finish in the fifth.
Professional boxing is called the hurt business for a reason and bouts like this show us why. To get up from the canvas after a knockdown and win a fight requires physical and mental fortitude. Full credit to Ridhwan for his performance and so too to Jason Butar Butar who put in a game effort.
This dramatic shootout at the Foo Chow Association Building was in front of a noisy crowd powered up by a free flow bar which certainly added to the atmosphere. Congratulations to the promoter Scott O'Farrell of Ringstar Management who put on a fun event which gave a great platform for local boxers and included plenty of good fights on the card.
27 Feb is The Chosen Wans one year anniversary since turning professional and what a year it has been. Since debuting in Cebu, Philippines he has fought once in KL, Malaysia and four times in Singapore.
The super featherweight from Yishun can bang and is making a name for himself as a knockout artist. Five stoppages in a row from a 130 pounder is something to take note of and he is climbing the rankings quickly.
With this win Ridhwan improves his record to 6-0 (5 KOs). He is scheduled to fight again on April 8th on SFC 5 in his first 10 round bout with the WBC EPBC Silver title on the line.
WhatsApp us at 89492236 or download our 'Legends SG' app to claim you FREE boxing class and get started!